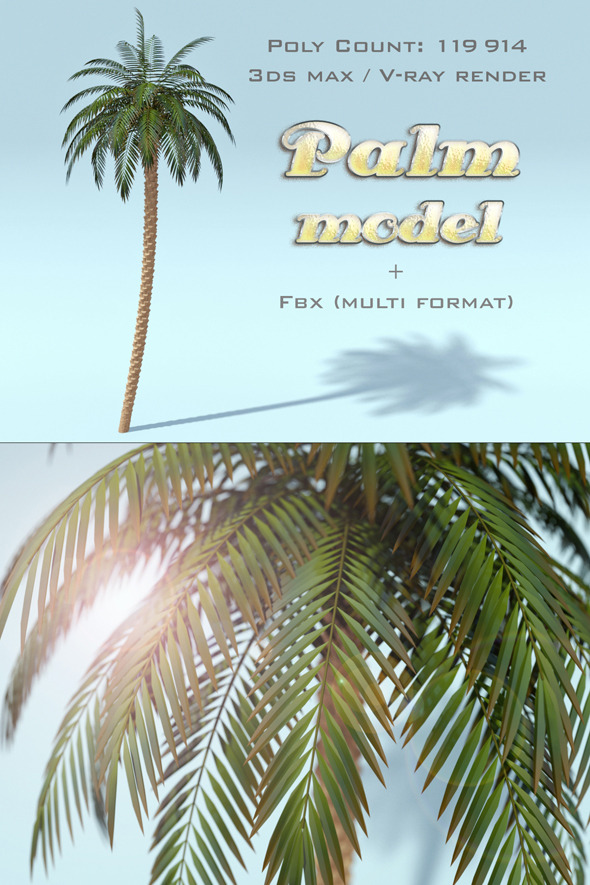 3DOcean Palm Tree Model 7218907

3D Model \ Nature \ Trees
Tree \ Palm \ Tropical \ Tropic \ Summer \ Polygon \ Vegetations \ Model \ Green
3D Model - Palm Tree Model 7218907
by OrANGEL @ 3DOcean
3D Model \ Nature \ Trees
3D File Formats Included: .fbx (multi format), .max (3ds Max); Animated: No; Created In: 3ds max 2009; Geometry: Polygons; Low-poly: No; Materials: Yes; Poly Count: 119 914; Rigged: No; Textured: Yes; UV Layout: No.
This Palm Tree 3D model created in 3ds max 2009.
What's included.
- 3ds max 2009 + V-ray SP 2 with 3 differetn Vray cameras (two of them are with DOF),
- Render ready studio with V-ray Sun and Sky,
- Fbx (multi format).
The palm tree is very detailed and realistic. All textures in .JPG file format
Keywords: 3d palm, 3d tree, 3d tropical, 3ds max, HD tree, exotic, green, island, leaf, model, palm, palm tree, polygon, summer, tree, tropic, tropical, v-ray, vegetations.