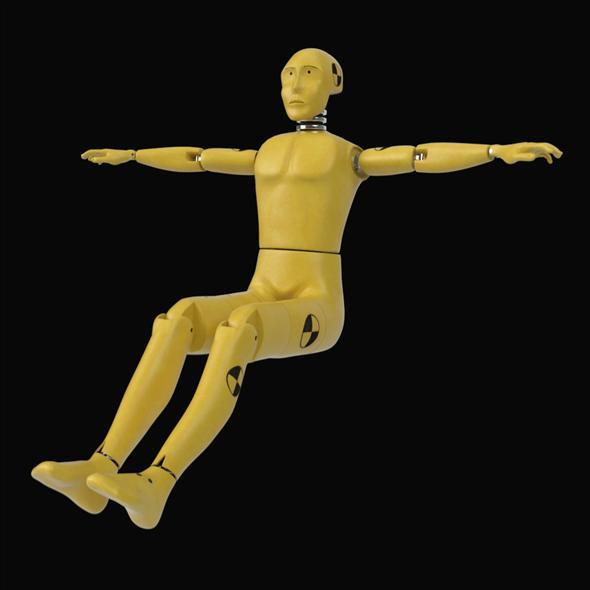 3DOcean Crash Test Dummy 7235881

3D Model \ Fantasy and Fiction \ Robots and Machines
Mannequin \ Humanoid \ Model \ Robot \ Test \ Human \ Dummy \ Character \ Crash
3D Model - Crash Test Dummy 7235881
by cooler_inc @ 3DOcean
3D Model \ Fantasy and Fiction \ Robots and Machines
3D File Formats Included: .blend (blender), .fbx (multi format), .obj (multi format); Animated: No; Created In: blender; Geometry: Polygons; Low-poly: No; Materials: Yes; Poly Count: 199504; Rigged: Yes; Textured: Yes; UV Layout: Yes.
Made in Blender 2.70 for Cycles rendering. Rigged with constraints for physical simulations.
All you have to do is just drag CTRL-dummy (circle under the model) in place you want and hit ALT+A (or play button on a timeline).
Layer 1 – contains Dummy model
Layer 11 – constraints for physical reaction
Layer 2 – contains Car-base
Layer 12 – constraints for physical reaction
FBX/Obj contains only dummy model without constraints.
Dummy has 5 textures with resolution 4096×4096 for your needs (color with scratches, plain color, bump, normals, specular)
Tamron 150-600/5.6-6.3 DI VC USD; Canon EF 24 70 f/2.8 L USM; RED DRAGON 6K + Angenieux Optimo DP 30-80mm T2.8; Aristotel Bust Statue; Scary Movie Costume; Snack Vending Machine; Coffee Vending Machine.
Keywords: android, character, crash, cyborg, doll, dummy, human, humanoid, mannequin, model, robot, test.