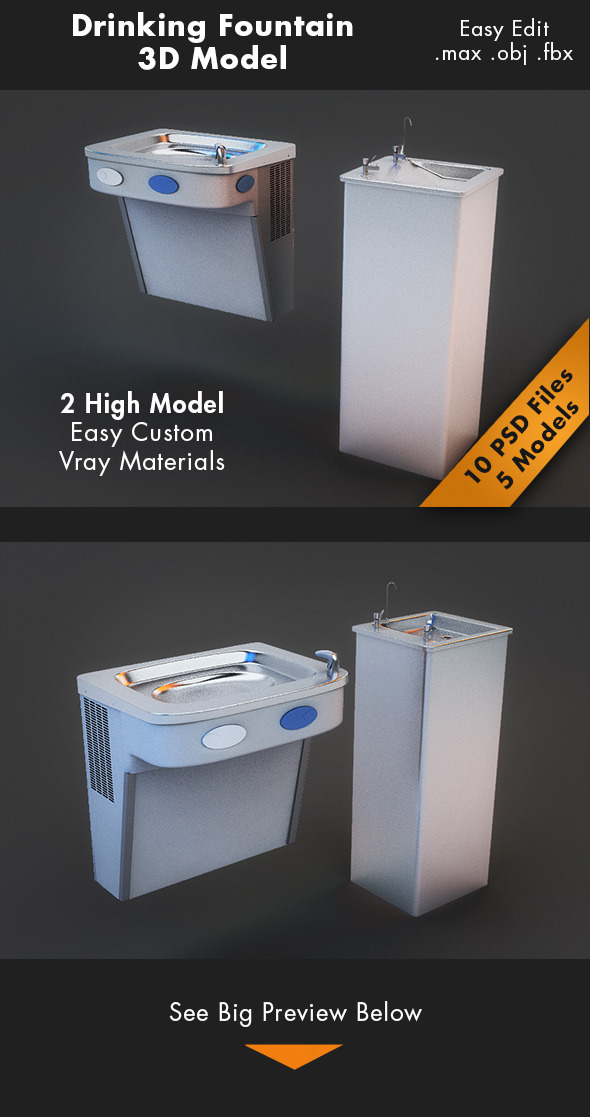 3DOcean Drinking Fountain Model 7303983

3D Model \ Furnishings \ Miscellaneous
Fountain \ Model \ Water \ Drink \ Drinking \ Vray \ Popular \ Realistic \ Interior
3D Model - Drinking Fountain Model 7303983
by kimarotta @ 3DOcean
3D Model \ Furnishings \ Miscellaneous
3D File Formats Included: .fbx (multi format), .max (3ds Max), .obj (multi format); Animated: No; Created In: 3ds max 2014; Geometry: Polygons; Low-poly: No; Materials: Yes; Poly Count: 97.944; Rigged: No; Textured: Yes; UV Layout: Yes.
This product is a premium model pack 2 models Drinking Fountain, it's possible use to many things to safe your time and money, and present something beautiful to your customer. Fountain, Drinking Fountain, Water Fountain, Water, Water Drinker…
Thank you.
Easy Edit Materials and Colors
High Resolution, High Quality.
Exclusive in Envato
.max .fbx .obj
Material Included
Vray Materials
Created in 3D max 2014 and Vray 2.4
Polycount – 97.944
Include 2 model of Drinking Fountain
Some of my products
Graphics
Backgrounds
Mockups
Others
3D
Human Skull 3d Model; Cup Coca Cola 3d; Classic Lighter ; Beauty Salon Pack; Fan 3d Model; Tricycle 3D Model; 3d Chess Set.
Keywords: 3d, 3d model, arch, archtecture, detail, drink, drink water, drinking, drinking fountain, exterior, fbx, fountain, fountain model, furniture, interior, max, model, obj, popular, realistic, vray, water, water fountain.