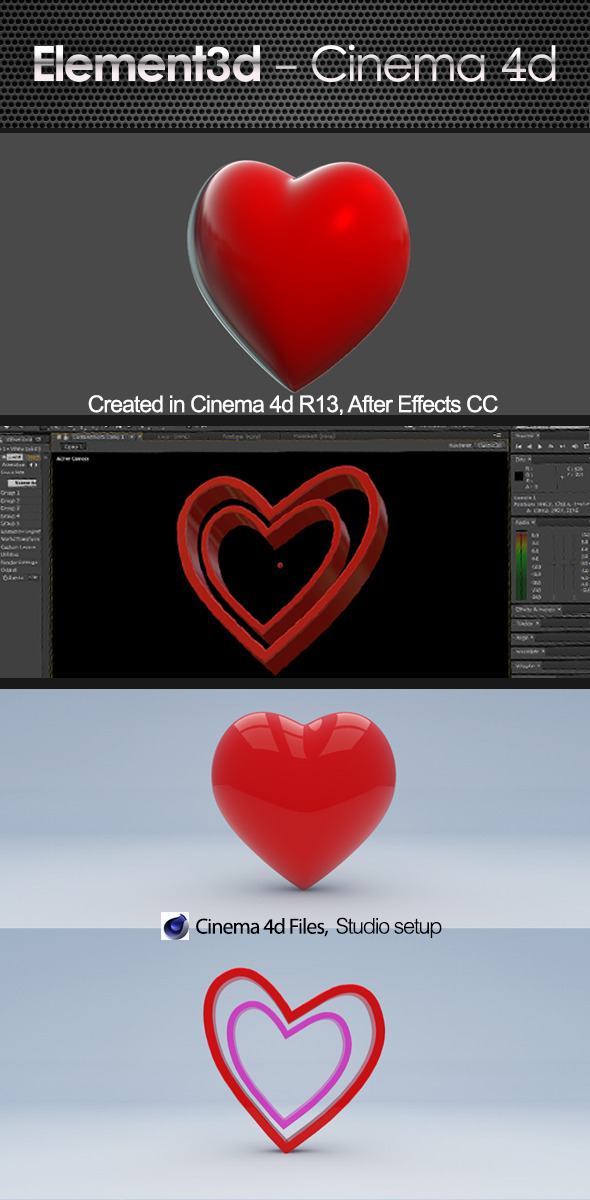 3DOcean Love Heart Element 3D & Cinema4D 7299223

3D Model \ Design Elements
Heart \ Romance \ Valentines \ Love \ Element
3D Model - Love Heart Element 3D & Cinema4D 7299223
by enterosoft @ 3DOcean
3D Model \ Design Elements
3D File Formats Included: .c4d (cinema 4d), .e3d (Element 3d), .obj (multi format); Animated: No; Created In: cinema 4d r13; Geometry: Polygons; Low-poly: No; Materials: Yes; Poly Count: Heart element 5408 , Heart icon 9360; Rigged: No; Textured: No; UV Layout: No.
Simple project
simple heart models E3D files, cinema 4d files & obj files
Step 1
love heart e3d&cinema 4d file extract
Step 2
copy love hart e3D file ( C Drive- libraries-documents-VideoCopilot-Models)
Step 3
01. Open After Effects and create new composition
02. Create new Solid layer and add Element effect
03. Create a Camera layer
04. Click on Solid layer that you have just created and under Effects love heart open Scene Setup in Element
05. Click on IMPORT inside Love Heart scene setup
There are 2 files included : love heart C4D : Love heart OBJ
3D Easter Egg ; Light Bulb ; Old Luxury Car 3D Model ; AXE Spray Bottle .
Keywords: element 3d, heart, love, red heart, romance, valentines.