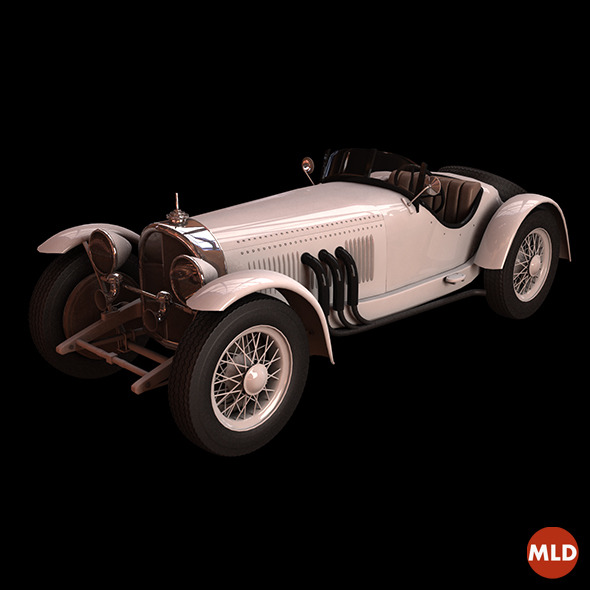 3DOcean Mercedes SSK 1928 7383978

3D Model \ Fantasy and Fiction \ Vehicles
Oldtimer \ Retro \ Vehicle \ Wheel \ Motor \ Drive \ Engine \ Mercedes \ Auto
3D Model - Mercedes SSK 1928 7383978
by mladenca @ 3DOcean
3D Model \ Fantasy and Fiction \ Vehicles
3D File Formats Included: .fbx (multi format), .ma (maya), .max (3ds Max), .mb (maya), .obj (multi format); Animated: No; Created In: maya 2012; Geometry: Polygons; Low-poly: No; Materials: Yes; Poly Count: 197167; Rigged: No; Textured: Yes; UV Layout: Yes.
Mercedes ssk 1928
3D model Mercedes ssk 1928, made in Autodesk Maya. Render setup Vray, version 2.0. Rendered with HDRI image (not included in scene). Only quads and tris. Enable to smooth/turbosmooth. Real world scale. All parts are named. Materials are fully named.
Vray shaders included (maya and vray materials)
Texture: deshboard (desh_tex) resolution 512×512
Hdri image is included in scene.
Available formats.
3D studi max (.max)
Autodesk Maya (.ma .mb)
Autodesk FBX (.fbx)
OBJ (.obj)
Low Poly Monster Car; Low Poly Car Set; Low Poly School Bus; Low Poly Police Car; Low Poly Van; Low Poly Sport Car; Low Poly Truck.
Keywords: auto, car, drive, engine, mercedes, mld, motor, oldtimer, retro, vehicle, wheel.