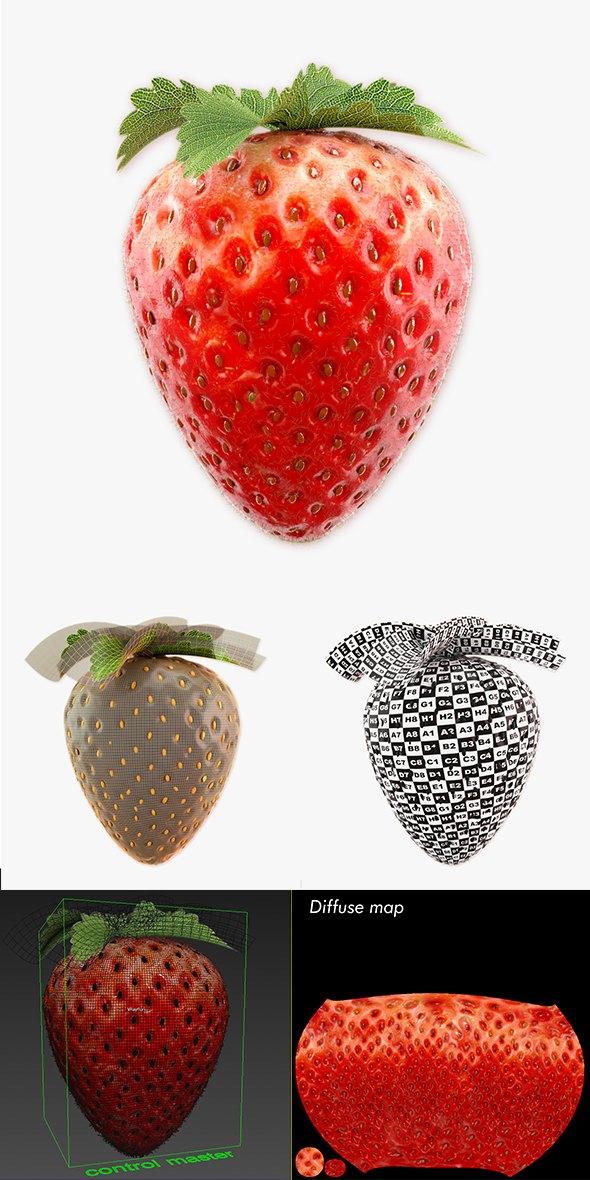 3DOcean Strawberry 3 7791996

3D Model \ Food and drinks
Strawberrys \ Strawberry \ Strawberries \ Strawbery \ Sugar \ Sweets \ Sweet
3D Model - Strawberry 3 7791996
by LeanSaler @ 3DOcean
3D Model \ Food and drinks
3D File Formats Included: .fbx (multi format), .max (3ds Max), .obj (multi format); Animated: No; Created In: 3ds max 2011, 3ds max 2014; Geometry: Polygons; Low-poly: No; Materials: Yes; Poly Count: 241760; Rigged: No; Textured: Yes; UV Layout: Yes.
Realistic 3D model of Strawberry
- 3ds Max 2011, 3ds Max 2014 project with V-Ray 2.4
- Polygonal mesh
- Close-ups & macro cameras support.
- Model centered at origin.
- Inluded obj & fbx file for any 3d-software.
- Displace modifier.
- Textures 4096×4096 pixels. Diffuse & Displace.
- Lighting, materials, render settings ready!
Cepita Nutridefensas Durazno Tetrapak Square 1L; Cepita Nutridefensas Naranja Tetrapak Square 1L; Cepita Nutridefensas Banana Mix Tetrapak Square 1L; Cepita Naranja Tetrapak Square 1000 ml; Cepita Manzana Tetrapak Square 1000ml; Del Prado Melocoton Tetrapak Slim 1000 ml; Del Valle Melocoton Tetrapak Slim 1000ml.
Keywords: Fruitcake, berrie, berry, cream, fruit, frutilla, plant, red, strawberri, strawberrie, strawberries, strawberry, strawberrys, strawbery, sugar, sweet, sweets.