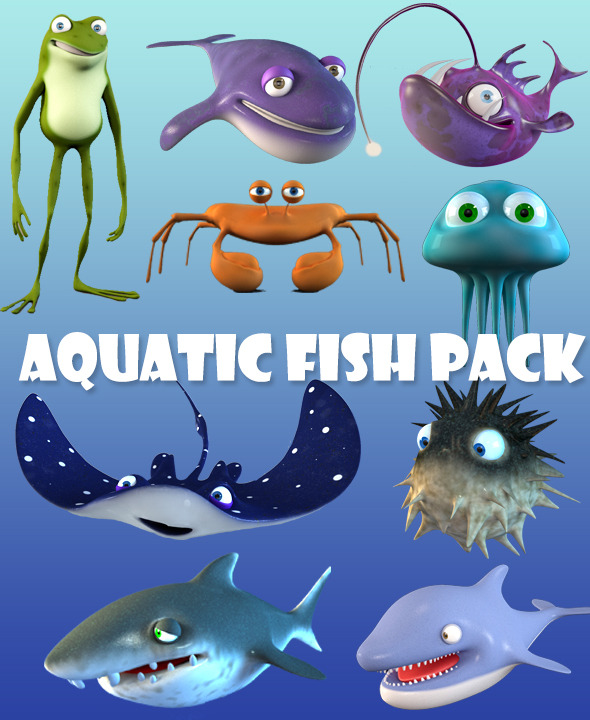 3DOcean Cartoon Fish Bundle 7803404

3D Model \ Animals \ Fish
Pufferfish \ Pack \ Life \ Shark \ Studios \ Wobblefin \ Whale \ Underwater \ Ocean
3D Model - Cartoon Fish Bundle 7803404
by Wobblefin @ 3DOcean
3D Model \ Animals \ Fish
3D File Formats Included: .fbx (multi format), .ma (maya), .max (3ds Max), .obj (multi format); Animated: No; Created In: 3ds max 2010, 3ds max 2011, 3ds max 2012, 3ds max 2013, maya 2012, maya 2013; Geometry: Polygons; Low-poly: Yes; Materials: Yes; Poly Count: 50000; Rigged: Yes; Textured: Yes; UV Layout: No.
Wobblefin Studios / Aquatic Character Pack.
This is our limited time only pack of Sea Cartoon Characters! An opportunity to have your own collection of cartoon characters in 3D.
Included in this pack are the following.
Cartoon Crab
Cartoon Whale
Cartoon Dolphin
Cartoon Shark
Cartoon Jellyfish
Cartoon Manta Ray – Rigged
Cartoon Puffer Fish – Rigged
Cartoon Frog – Rigged
Cartoon Angler fish – Rigged
All models were built in 3ds max but a lot of them have .fbx and all have .obj format should you need them to be imported into other software packages. The angler fish has now been built also in Maya so you have the best of both worlds if you want to focus on this cool character. The textures however are just shaders running complicated levels in some cases and these will not transfer through to Maya.
All characters are set up to render in Vray.
The scenes themselves are simple studio lighting scenes that are all included in each model pack. If you would like to see more images of one of the characters to convince you of how great a deal this is then head on over to Wobblefin Studios profile and look for that specific character. You can then see for yourselves the images and polycount for each character.
We don't need to put in the polycount here for each character as they are not high resolution and of course you can add subdivisions as you wish later when you have the scene open. If you want to see the polycount then as mentioned before, have a look at each character for sale or the specific one you are after for more information on it.
All together these characters bought seperately would cost you more than 500 Dollars so hopefully you can see the value in buying the pack itself! You will save over 200 Dollars!
If you have any questions or difficulties or would like us to export a format of one or more characters for you then please don't hesitate to get in touch with Wobblefin Studios using the 3D Support link in the sidebar.
Regards
The Wobblefin Team.
Cartoon Alien - Rigged; Cartoon Flamingo - Rigged; Cartoon Shark; Cartoon Crab; Cartoon Frog - Rigged; Cartoon Angler Fish - Rigged; Cartoon Puffer Fish - Rigged.
Keywords: anglerfish, bundle, cartoon, character, crab, creatures, dolphin, fish, funny, group, jellyfish, manta, ocean, pack, pufferfish, ray, sea, sea-life, shark, underwater, whale, wobblefin studios.