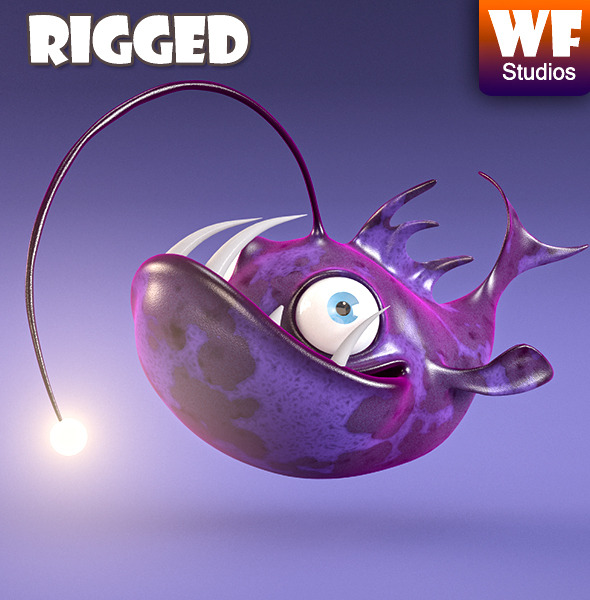 3DOcean Cartoon Angler Fish Rigged 7812723

3D Model \ Animals \ Fish
Rigged \ Realistic \ Ocean \ Studios \ Wobblefin \ Water \ Underwater \ Model
3D Model - Cartoon Angler Fish Rigged 7812723
by Wobblefin @ 3DOcean
3D Model \ Animals \ Fish
3D File Formats Included: .ma (maya), .max (3ds Max), .mb (maya), .obj (multi format); Animated: No; Created In: 3ds max 2013, 3ds max 2014, maya 2013, maya 2014; Geometry: Polygons; Materials: Yes; Poly Count: 36, 886; Rigged: Yes; Textured: No; UV Layout: No.
>>>UPDATED<<<<
Maya Rig and model now included!!! The character in the Maya scene does not have the textured look as you see in the display images. You may texture it how you want.
Here we have a cartoon anglerfish from wobblefin studios. BOTH MAYA & MAX versions.
This character comes with a full rig setup and 3ds max 2011, 2012, 2013 and obj. The lighting in the scene is included and the texturing is a simple mix of maps cleverly used to achieve the effect.
The character renders in Vray perfectly. The rig was designed for animators.
WE named this character gobbles to give it some character when designing him. From there he evolved into more than a pencil drawing on a notepad and was given life through zbrush and 3ds max.
From time to time we may add to our characters and if we do we will notify and customers of the updates free of charge.
The character consists of 36,886 polygons, no triangles in the scene and 27,049 vertices.
The rig itself was designed by an animator.
The skinning was done with a custom plugin and converted to Max skin. The result is a very flexible character.
.obj included
Max 2013
Max 2012
Max 2011
.MA
.MB
If you would like another format or version please get in touch and we will do our best to help you.
We hope you enjoy this really cool character from Wobblefin Studios.
Cartoon Alien - Rigged; Cartoon Flamingo - Rigged; Cartoon Shark; Cartoon Crab; Cartoon Frog - Rigged; Cartoon Fish Bundle; Cartoon Puffer Fish - Rigged.
Keywords: 3d, 3ds, angler, anglerfish, cartoon, character, deep, fish, funny, max, model, obj, ocean, realistic, rigged, sea, studios, underwater, water, wobblefin.