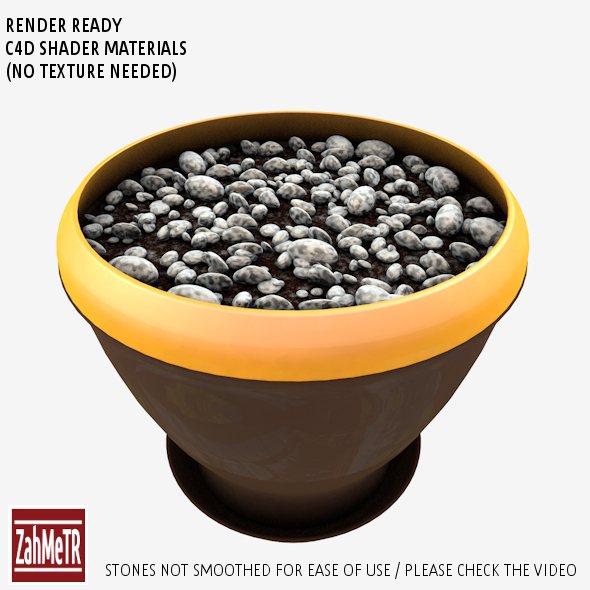 3DOcean Flower Plant Pot Empty 7815507

3D Model \ Deco Objects
Pottery \ Planter \ Rock \ Soil \ Vases \ Vase \ Stone \ Plant \ Pieces \ Decors
3D Model - Flower Plant Pot Empty 7815507
by zahmetr @ 3DOcean
3D Model \ Deco Objects
3D File Formats Included: .3ds (multi format), .blend (blender), .c4d (cinema 4d), .fbx (multi format), .max (3ds Max), .obj (multi format); Animated: No; Created In: cinema 4d r15; Geometry: Polygons; Low-poly: No; Materials: Yes; Poly Count: 11225; Rigged: No; Textured: No; UV Layout: No.
Flower / Plant Pot (Empty)
Please check video preview / images and read description before you buy. Thanks.
C4D file and other file formats not smoothed or subdivided for file size and ease of use. You can smooth stone pieces in any 3D software or ask for smoothed version. We will deliver to you as soon as possible. Also you can see how to smooth in preview video.
Render system and materials are ready for Cinema 4D. All materials C4D shader based and they dont need any external texture file. The model tested in Cinema 4D R15, Blender 2.66a, 3DS Max 2013.
Ratings make us happy. Feel free to ask me any thing or suggestions about my models and designs by "E-Mail" on my profile page or "Skype: ZahMeTR"
Bolt Cutter (Xpresso Slider Controlled); 100 Mono Icons Mixed Pack; Infographics 3D Models in 2 Styles Part 4; 3D Gears Human Head Shaped; Infographics 3D Models in 3 Styles Part 3; Infographics 3D Models in 2 Styles Part 2; Infographics 3D Models in 2 Styles.
Keywords: accessories, decoration, decorative, decors, exterior, flower, holder, holes, interior, pieces, plant, planter, pot, pottery, rock, soil, stone, vase, vases.