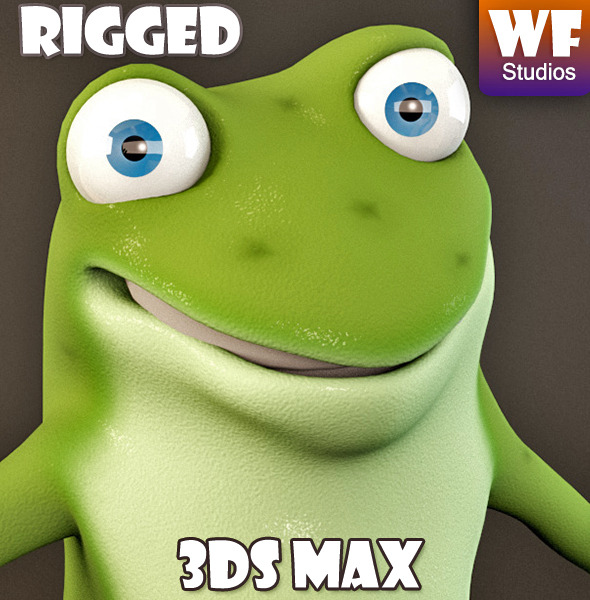 3DOcean Cartoon Frog Rigged 7812812

3D Model \ Animals \ Reptiles and Amphibians
Character \ Frog \ Funny \ Amphibian \ Modelled \ Vray \ Water \ Well \ Skinned \ Cute
3D Model - Cartoon Frog Rigged 7812812
by Wobblefin @ 3DOcean
3D Model \ Animals \ Reptiles and Amphibians
3D File Formats Included: .max (3ds Max), .obj (multi format); Animated: No; Created In: 3ds max 2012, 3ds max 2013; Geometry: Polygons; Materials: Yes; Poly Count: 30720; Rigged: Yes; Textured: No; UV Layout: No.
Cartoon Character "Frog" by Wobblefin Studios. *3ds Max Version
This is the 3DS MAX Version of our Cartoon Character "Frog" Rig. It is rigged and textured in 3ds Max 2013 but we have uploaded the 2012 version too.
The rigging is done in CAT along with a lot of attention to skinning. There is a morph target for the body so you can have fun animating this guy with a simple slider.
The texturing is easy and simple, with some noise modifiers and a few other bits to achieve this effect and enable it to be renderable in Vray.
Included in this version will be the .obj of the model. Quads only, no triangles.
There will be a maya version of this character created soon so stay tuned if you have need of the Maya rigged Cartoon Character "Frog"
The character comes with a studio lighting setup using Vray and renders really fast.
The mesh is all one piece and the body has 30,720 polygons. 15,362 Vertices.
We hope you like the character and have fun.
Cartoon Alien - Rigged; Cartoon Flamingo - Rigged; Cartoon Shark; Cartoon Crab; Cartoon Angler Fish - Rigged; Cartoon Fish Bundle; Cartoon Puffer Fish - Rigged.
Keywords: 3ds max rig, Cartoon Frog, amphibian rig, character rig, creature, cute character, frog amphibian, frog rig, frogs, funny character, funny frog, max character, pond, skinned character, vray max, water, well modelled.