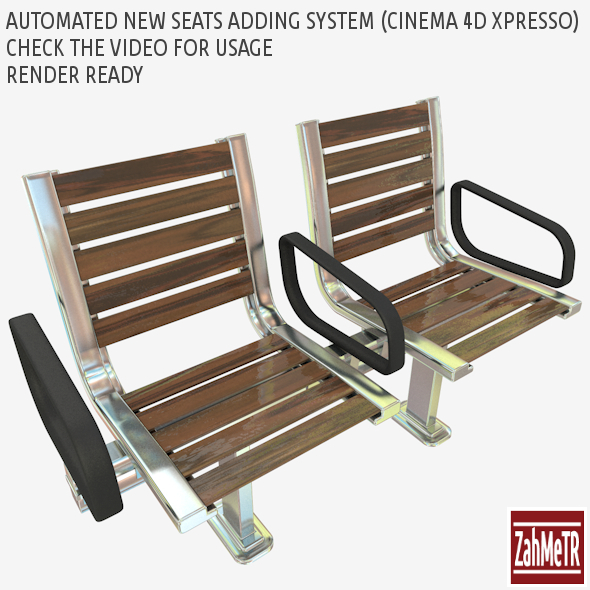 3DOcean Seats with Automatic Adding Slider Xpresso 7823031

3D Model \ Furnishings \ Seating
Seat \ Seating \ Public \ Park \ Outdoor \ Steel \ Street \ Wooden \ Wood \ Waiting
3D Model - Seats with Automatic Adding Slider Xpresso 7823031
by zahmetr @ 3DOcean
3D Model \ Furnishings \ Seating
3D File Formats Included: .3ds (multi format), .blend (blender), .c4d (cinema 4d), .fbx (multi format), .max (3ds Max), .obj (multi format); Animated: No; Created In: cinema 4d r15; Geometry: Polygons; Low-poly: No; Materials: Yes; Poly Count: 9715; Rigged: No; Textured: No; UV Layout: No.
Seats with Automatic Adding Slider (Xpresso)
Please check video preview / images and read description carefully before you buy. Thanks.
You need Cinema 4D software to use slider controller or just ask how many seats dou you need. You can see how to use slider in preview video.
Render system and materials are readyfor Cinema 4D. The model tested in Cinema 4D R15, Blender 2.66a, 3DS Max 2013.
Feel free to ask me any thing about my models and designs by "E-Mail" on my profile page or "Skype: ZahMeTR"
Flower / Plant Pot (Empty); Bolt Cutter (Xpresso Slider Controlled); 100 Mono Icons Mixed Pack; Infographics 3D Models in 2 Styles Part 4; 3D Gears Human Head Shaped; Infographics 3D Models in 3 Styles Part 3; Infographics 3D Models in 2 Styles Part 2.
Keywords: 3d, airport, architecture, bench, bus-stop, city, exterior, furniture, garden, metal seat, modern, outdoor, park, public, seat, seating, steel, street, transport, waiting, wood, wooden.