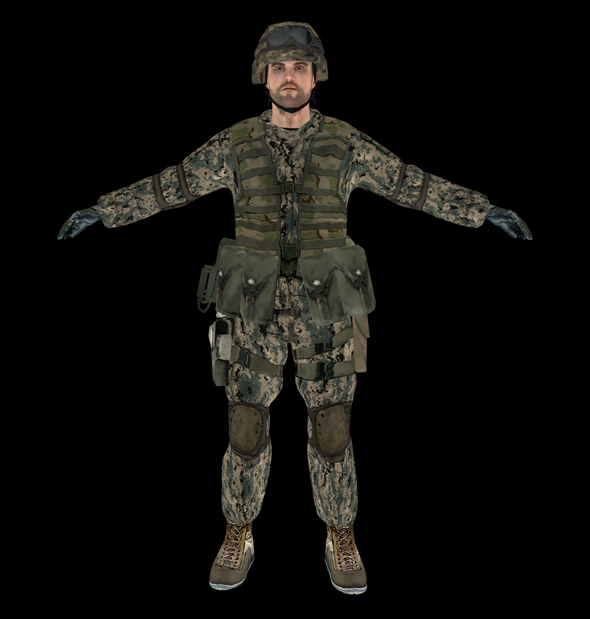 3DOcean Soldier 3494843

3D Model \ Fantasy and Fiction \ Characters
Soldier \ Rigged \ Army
3D Model - Soldier 3494843
by BayChaser @ 3DOcean
3D Model \ Fantasy and Fiction \ Characters
3D File Formats Included: .3ds (multi format), .c4d (cinema 4d), .dxf (multi format), .max (3ds Max), .obj (multi format); Animated: No; Created In: cinema 4d r12; Geometry: Polygons; Low-poly: Yes; Materials: No; Poly Count: 3144; Rigged: Yes; Textured: Yes; UV Layout: Yes.
In this package you will receive total of 4 project files.
Cinema 4d project files.
1. 2 soldiers high poly
2. 2 soldiers low poly
3. soldier rigged
4. Gear that comes with soldier (helmet and pouches)
5. Bones setup in .c4d so you dont have to do it manually.
You can play with it to get it the way you want the rigging on 1 of the soldiers is just added for sample.
This is for those that wants to practice rigging and you will get the whole package.
Project files come in Cinema 4D but other multi formats are included as well.
High Poly count: 150912
Low Poly count: 3144
Oil Pump With Gas Pump; Windmill; Off Road Jeep; Road And Highway With Elements; Magazines; Winter Trees Pack Low Poly; Air Defense System.
Keywords: army, rigged, soldier.