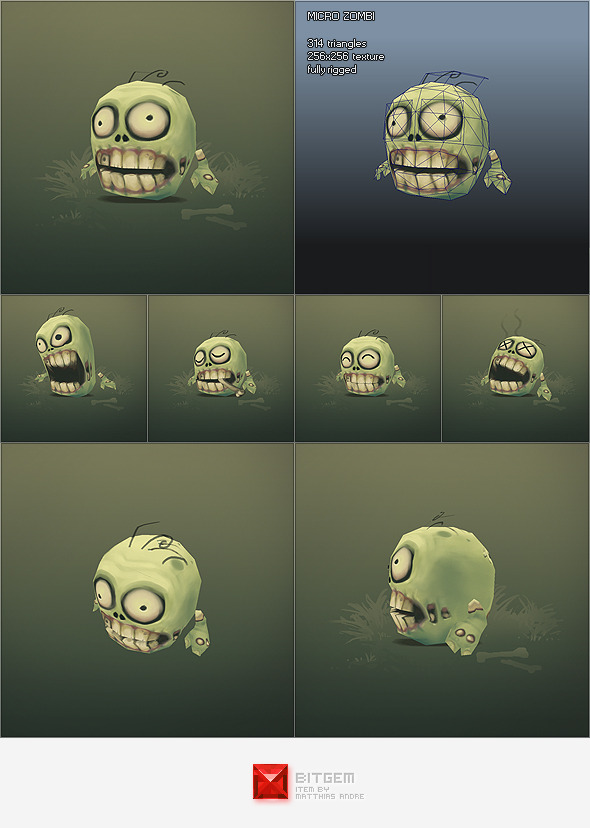 3DOcean Low Poly Micro Zombie Brian 1214365

3D Model \ Fantasy and Fiction \ Monsters and Creatures
Poly \ Painted \ Monster \ Textured \ Undead \ Zombi \ Unity \ Micro \ Lowpoly \ Brian
3D Model - Low Poly Micro Zombie Brian 1214365
by BITGEM @ 3DOcean
3D Model \ Fantasy and Fiction \ Monsters and Creatures
3D File Formats Included: .fbx (multi format), .mb (maya), .obj (multi format); Animated: Yes; Created In: maya 2011; Geometry: Polygons; Low-poly: Yes; Materials: No; Poly Count: 314; Rigged: Yes; Textured: Yes; UV Layout: Yes.
This is low poly micro zombi Brian! Actually it is not certain that his name is Brian. Every time we ask him he just keeps saying BRAAAAIIIINN … we think it means Brian. He is fully rigged and comes with an idle animation (frame 01-60).
He has a similar rig to the other micro creatures and can easily be animated.
As a side note I should add that Blender users will not get access to the rig nor the animation when buying this model until Blender has an .fbx importer.
Metal Trims; Low Poly Dungeon Door Set; Low Poly Barrels; Low Poly Epic Door; Low Poly Stone Door; Low Poly Metal Door; Low Poly Mini Skeleton Swarm Pack.
Keywords: asset, brains, brian, character, cute, game, low, lowpoly, micro, monster, painted, poly, textured, undead, unity, zombi.