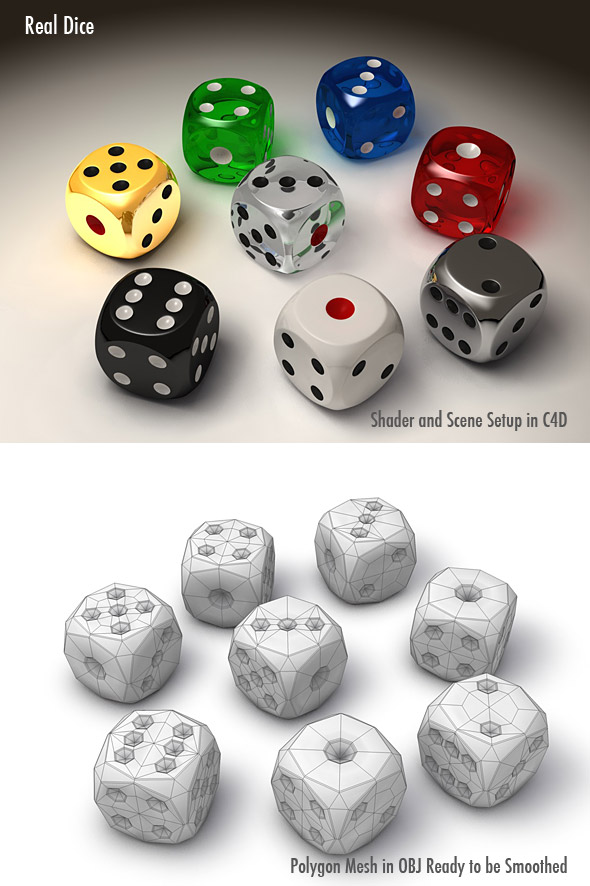 3DOcean Real Dice 102531

3D Model \ Toys and Games
Gaming \ Game \ Lighting \ Roll \ Shader \ Scene \ Gambling \ Gamble \ Casino \ Cinema
3D Model - Real Dice 102531
by landhell @ 3DOcean
3D Model \ Toys and Games
3D File Formats Included: .c4d (cinema 4d), .fbx (multi format), .obj (multi format); Animated: No; Created In: cinema 4d r10, cinema 4d r10.5, cinema 4d r11, cinema 4d r11.5; Geometry: Polygons; Materials: Yes; Poly Count: 602; Rigged: No; Textured: No; UV Layout: No.
Fully details poly modeled for HyperNURBS of a dice model with correctly orientated dots and perfect replica. 8 type of color shaders and scene setup include in C4D .
What you get in C4D file.
- Contain entire scene setup include shader, lighting and render setting.
- Self painted fake royalty free HDRI . You are allowed to use the fake HDRI any where you like include personal or commercial.
- 8 type of colors to choose from. Ready to use.
- Object is named and placed in HyperNURBS.
- Just hit render and you will get about the same image result with the preview showing.
What you get in OBJ and FBX file.
- Contain low poly mesh with named objects and ready to be smoothed.
- No shader or scene setup.
Replicate modeled to the real life dice.
Intended for high-res renders and prints.
By using this Dice you are sure to please your client with a high quality accurate close-up shot.
Dumbbell Set.
Keywords: betting, c4d, casino, cinema 4d, dice, die, gamble, gambling, game, gaming, lighting, roll, scene, shader.