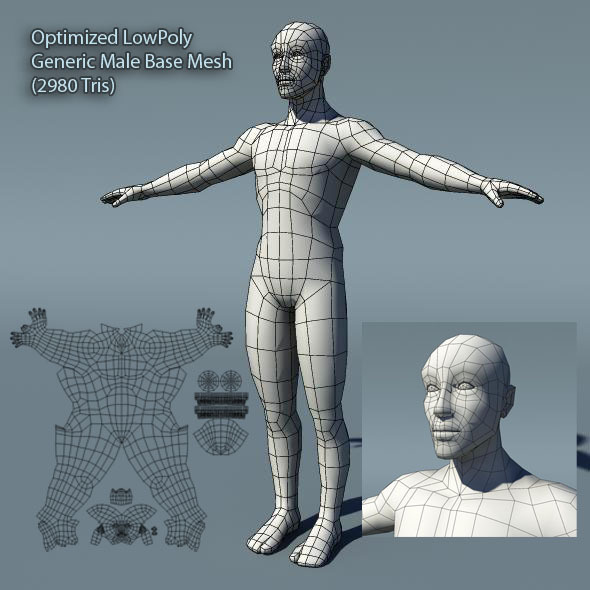 3DOcean Optimized Low Poly Male Human Base Mesh Version1.0 373215

3D Model \ Base Meshes
Unwrapped \ Maya \ Male \ Optimized \ Quads \ Lowpoly \ Clean \ Basemesh \ Mesh
3D Model - Optimized Low Poly Male Human Base Mesh Version1.0 373215
by amardeep @ 3DOcean
3D Model \ Base Meshes
3D File Formats Included: .ma (maya), .mb (maya), .obj (multi format); Animated: No; Created In: maya 2009; Geometry: Polygons; Materials: No; Poly Count: 2980; Rigged: No; Textured: No; UV Layout: Yes.
This is an optimized 2nd version of generic male low poly base mesh (eyes, teeth & tongue included). Keeping the human muscle anatomy in mind I have maintained low poly, clean topology, all quads & also UV-unwrapped. It has a polycount of only 2980 tris (compared to my older version which has 5924 tris). It is ready for sculpting, texturing, rigging, animation etc. Hope you like this version of low poly human base mesh model and serves your purpose. Thanks.
Teenage Girl Basemesh V1.1; Human Skull Polygon Mesh V1.0; Teenage Boy Basemesh V1.1; Human Skeleton with Circulatory System PolygonMesh; Skeleton Polygon Mesh of Adult Male Human; Male Human Body Anatomy High Poly Mesh; Low Poly Teenage Girl Base Mesh.
Keywords: base mesh, basemesh, clean topology, generic, human, low poly, lowpoly, ma, male, maya, mb, obj, optimized, quads, unwrapped, uv unwrapped.