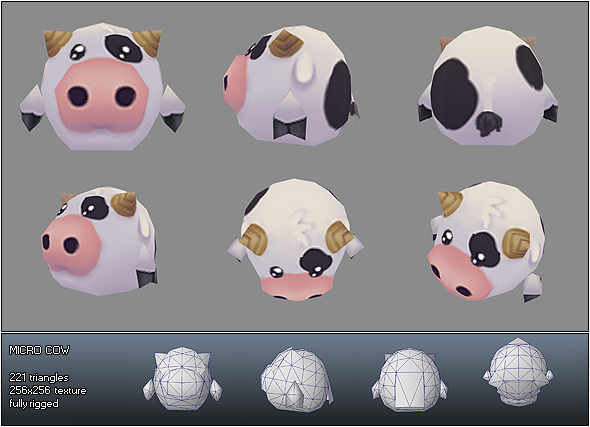 3DOcean Low Poly Micro Cow Ulli 180087

3D Model \ Animals
Micro \ Model \ Poly \ Rigged \ Lowpoly \ Animation \ Cartoon \ Game \ Animal
3D Model - Low Poly Micro Cow Ulli 180087
by BITGEM @ 3DOcean
3D Model \ Animals
3D File Formats Included: .fbx (multi format), .mb (maya); Animated: Yes; Created In: maya 2011; Geometry: Polygons; Low-poly: Yes; Materials: No; Poly Count: 221; Rigged: Yes; Textured: Yes; UV Layout: Yes.
This is Ulli, a low poly micro cow! He is fully rigged and has a bunch of basic animations. You can put him in the turret of the micro tank or use him for what ever else you please. Ulli practices his jumping skills every day. He has big plans, he wants to jump the fence one day because to him it is certain, the grass is greener on the other side!
Animations.
- frame 1: bind pose
- frame 10-49: idle
- frame 60-75: ATTACK !!
- frame 80-109: gethit
- frame 120-149: victory
For more information on how the rig is built and to get a better feel for the model, have a look at this screen cast .
As a side note I should add that Blender users will not get access to the rig nor the animation when buying this model until Blender has an .fbx importer.
Stone Floor Tile 12; Low Poly Dungeon Door Set; Low Poly Barrels; Low Poly Epic Door; Low Poly Stone Door; Low Poly Metal Door; Low Poly Mini Skeleton Swarm Pack.
Keywords: animal, animation, cartoon, cow, game, low, lowpoly, micro, model, poly, rigged.