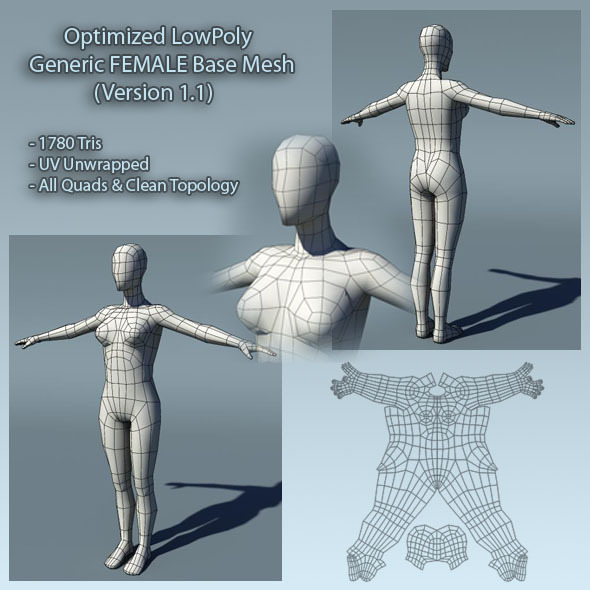 3DOcean Low Poly Human Female Base Mesh Ver1.1 411069

3D Model \ Base Meshes
Base \ Mesh \ Poly \ Polygon \ Quads \ Women \ Unwrapped \ Lowpoly \ Female \ Basemesh
3D Model - Low Poly Human Female Base Mesh Ver1.1 411069
by amardeep @ 3DOcean
3D Model \ Base Meshes
3D File Formats Included: .ma (maya), .mb (maya), .obj (multi format); Animated: No; Created In: maya 2009; Geometry: Polygons; Materials: No; Poly Count: 1780; Rigged: No; Textured: No; UV Layout: Yes.
This is a very basic low-poly female character base mesh with poly count of only 1780 tris.
It has clean-topology, all quads and also UV-unwrapped. And is ready for sculpting, texturing, rigging, & animation.
Hope you like this version. Thanks
Teenage Girl Basemesh V1.1; Human Skull Polygon Mesh V1.0; Teenage Boy Basemesh V1.1; Human Skeleton with Circulatory System PolygonMesh; Skeleton Polygon Mesh of Adult Male Human; Male Human Body Anatomy High Poly Mesh; Low Poly Teenage Girl Base Mesh.
Keywords: base, base mesh, basemesh, female, generic, girl, human, low, low poly, lowpoly, ma, maya, mb, mesh, obj, poly, polygon, quads, uv unwrapped, women.