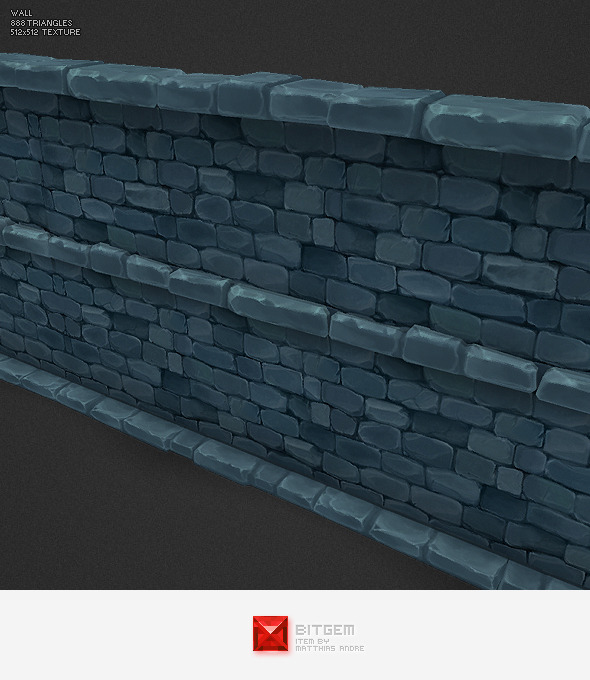 3DOcean Low Poly Dungeon Stone Wall Segment 2644534

3D Model \ Buildings and Architecture \ Infrastructure
Rock \ Poly \ Pillar \ Painted \ Stone \ Texture \ Wall \ Tomb \ Tile \ Ornament
3D Model - Low Poly Dungeon Stone Wall Segment 2644534
by BITGEM @ 3DOcean
3D Model \ Buildings and Architecture \ Infrastructure
3D File Formats Included: .fbx (multi format), .mb (maya), .obj (multi format); Animated: No; Created In: maya 2011; Geometry: Polygons; Low-poly: Yes; Materials: No; Poly Count: 888; Rigged: No; Textured: Yes; UV Layout: Yes.
Add a professional touch to your game project with this low poly, hand painted dungeon wall segment. This package contains 3 tile able wall textures as well as a model made to fit those textures. It also contains a floor divider texture and model to help join different floor textures together or just divide up a room to create paths.
To achieve the look as seen on the preview images the model needs to be self illuminated (flat shaded) to some degree in what ever 3D software or engine you are using. It comes in a range of formats that will easily import to all major 3D software packages or game engines out there.
Buy this item to download the model set and textures together with the license to use the work in a project (see license description).
- Diffuse Texture: 512×512
- Formats: .mb, .fbx, .obj
- Artists: Matthias Andre
Stone Floor Tile 12; Metal Trims; Low Poly Dungeon Door Set; Low Poly Barrels; Low Poly Epic Door; Low Poly Stone Door; Low Poly Metal Door.
Keywords: asset, bitgem, blue, border, diablo3, divider, dungeon, hand, low, lowpoly, matthias, omnione, ornament, painted, pillar, poly, rock, stone, texture, tile, tomb, wall, wow.