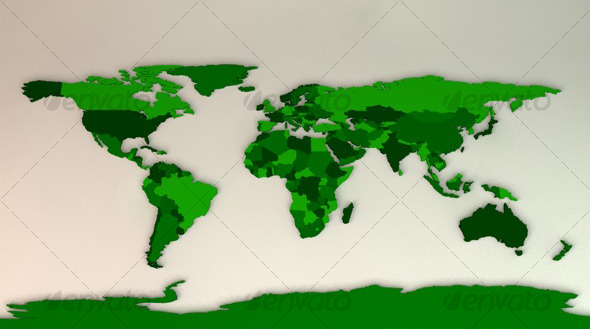 3DOcean World Map 121615

3D Model \ Miscellaneous
Europe \ World \ Earth \ Country \ Asia \ Australia \ Countries \ Africa
3D Model - World Map 121615
by ChristineWilde @ 3DOcean
3D Model \ Miscellaneous
3D File Formats Included: .3ds (multi format), .c4d (cinema 4d); Animated: No; Created In: cinema 4d r10, cinema 4d r10.5, cinema 4d r11, cinema 4d r11.5; Geometry: Polygons; Materials: Yes; Poly Count: 135955; Rigged: No; Textured: No; UV Layout: No.
This is a 3D model of the world map. Each country is a separate part to the model so you can add different colours to each country or its own flag. Take a look at the preview images for examples. It includes all the continents; Europe, Asia, Africa, USA , Australia and Antarctica.
The map has been some what simplified so not all the tiny islands have been included. The map has been created from vectors in Illustrator so each part is created using splines. I used an extrude nurbs on all the elements to give the map depth.
What's Included?
- C4D and 3DS files
- Model of World Map
- All separate countries
- Help File
Ribbon Bow; UK Motorway Signs; Pixel Cursors; Snowboard & Bindings; Orange; Lego Easter Bunny; Lego Man.
Keywords: africa, asia, australia, countries, country, earth, europe, map, usa, world.