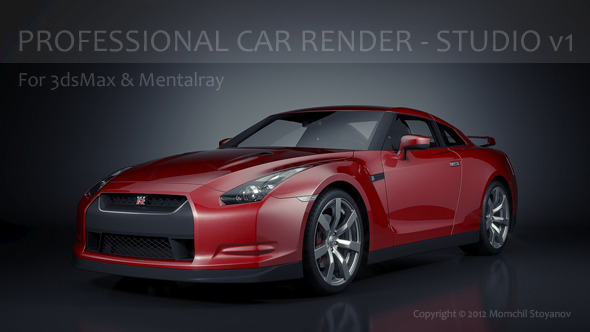 3DOcean Professional Car Render Studio v1 1451322

3D Model \ Render Setups
Studio \ Render \ Professional
3D Model - Professional Car Render Studio v1 1451322
by mstyle @ 3DOcean
3D Model \ Render Setups
3D File Formats Included: .max (3ds Max); Animated: No; Created In: 3ds max 2010, 3ds max 2011; Geometry: Polygons; Materials: Yes; Poly Count: 114; Rigged: No; Textured: Yes; UV Layout: No.
This is a Professional Car Render Studio v1. It is rendered using 3ds Max 2012 and mentalray. The pack does not include car model!!!
For best results, calibrate your monitor. Set 3dsMax Gamma to 2.2 and use the following settings.
Antialiasing FIlter: Mitchell
Frame Buffer: Floating Point 32bit
Camera Shader: Output – Glare
Important! Do not use Final Gather or Global Illumination!
Scene Set Includes.
- 3dsMax 2010, 2011 and 2012 *.max files
- Studio Ground
- Studio Camera
- 3 Studio Lights
- 3 Studio SoftBoxes with rig
- Ready for render.
Easy to use!
Professional Car Render - Studio v1; Books Set - 3D Models; Interior Lamps - Set - 01; Home - Theater - Blu-ray Player; Home - Theater - AV Receiver; Home Theater - Speakers Pack; Realistic Car Shaders / Materials Pack.
Keywords: car, professional, render, studio.