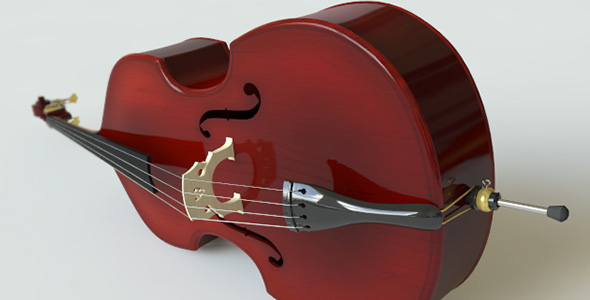 3DOcean Upright Bass Double Bass Contrabass 76003

3D Model \ Music \ Instruments \ Strings
Bass \ Jazz \ Music \ Upright \ Stylish \ Double \ Classic \ Contrabass \ Acoustic
3D Model - Upright Bass Double Bass Contrabass 76003
by Kontramax @ 3DOcean
3D Model \ Music \ Instruments \ Strings
3D File Formats Included: .3ds (multi format), .max (3ds Max), .obj (multi format); Animated: No; Created In: 3ds max 2008; Geometry: Polygons; Materials: Yes; Poly Count: 45.999; Rigged: No; Textured: Yes; UV Layout: Yes.
High-poly model of my Upright Bass.
Original mesh was created and texturized in 3DS Max 2008. Large parts have MeshSmooth modifier, and you can easily change number of interations.
Pictures rendered with Vray 1.5 and there two versions *.max files – one with standart materials for scanline render and second with Vray 1.5 materials and render options.
Also there *.3DS and *.OBJ (with *.MTL) files, but i can't test that mapping is fully correct on this versions.
Note: All maps are included in archive with original *.MAX format.
Brave Heart (3D model of human heart); Ocean Lobster; Santa Party 3D Animaton Kit; Wall Clock; Piggy Bank; Bass Guitar Ibanez SR506 (6-strings).
Keywords: acoustic bass, classic, contrabass, double bass, exclusive, jazz, jazz bass, music, stylish, upright bass.