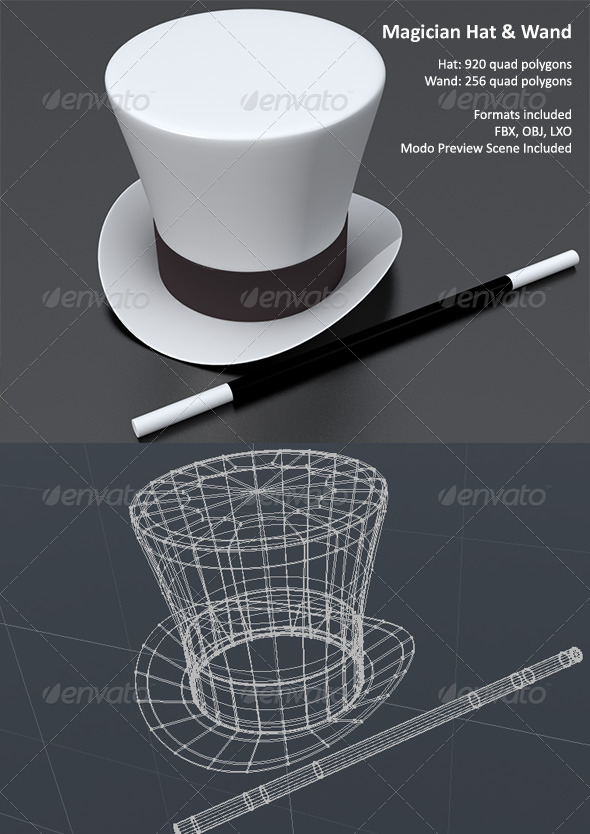 3DOcean Magician Hat and Wand 143884

3D Model \ Clothes & Accessories \ Hats
Magician \ Show \ Wand \ Magic \ Illusionist \ Topology \ Clean
3D Model - Magician Hat and Wand 143884
by doru @ 3DOcean
3D Model \ Clothes & Accessories \ Hats
3D File Formats Included: .fbx (multi format), .lxo (modo), .obj (multi format); Animated: No; Created In: modo 401; Geometry: Polygons; Materials: Yes; Poly Count: 1176; Rigged: No; Textured: No; UV Layout: No.
3D model of a magician hat & wand. The hat has 920 quad polygons, wand has 256 quad polygons. Use subdivision to increase render detail and to smooth geometry. The object has the materials defined, but no UV map or textures maps.
Formats Included.
obj fbx and lxo format,
optional the scene used to create the item preview is included (the scene opens with Modo 401)
File Requirements.
Luxology Modo 401 for lxo format
A software able to read obj or fbx format (most of them should have no problem with either of these two formats)
Traffic Cone; Lifebelt 3D Object; 3D Christmas Decorations; 3d Metal Barrels.
Keywords: clean topology, hat, illusionist, magic, magician, show, wand.