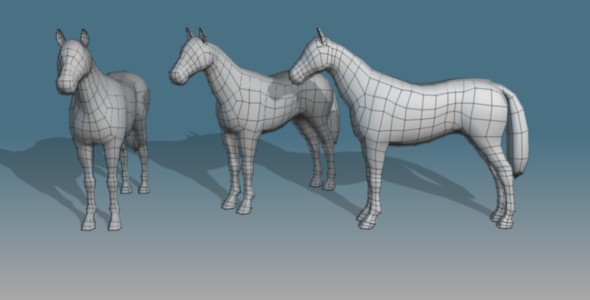 3DOcean Lowpoly Horse Base Mesh 71038

3D Model \ Base Meshes
Topology \ Unwrapped \ Uved \ Mammal \ Lowpoly \ Base \ Mesh \ Horse \ Animal
3D Model - Lowpoly Horse Base Mesh 71038
by carter24 @ 3DOcean
3D Model \ Base Meshes
3D File Formats Included: .3ds (multi format), .blend (blender), .obj (multi format); Animated: No; Created In: 3ds max 2010, 3ds max 9, blender, lightwave 9, maya 2010, softimage 7.5; Geometry: Polygons; Materials: No; Poly Count: 1792 trianges; Rigged: No; Textured: No; UV Layout: No.
This lowpoly horse model makes an excellent base mesh for sculpting or can be used as a game model with little, to no modifications. The model is comprised of 100% quads with clean topology, animation friendly, is fully uv-unwrapped, and it is ready for sculpting, texturing, rigging, etc.
Formats included: .blend, .3ds, .obj,
Lowpoly Dog Basemesh; Paper Coffee Cup.
Keywords: animal, base mesh, horse, lowpoly, mammal, topology, unwrapped, uved.