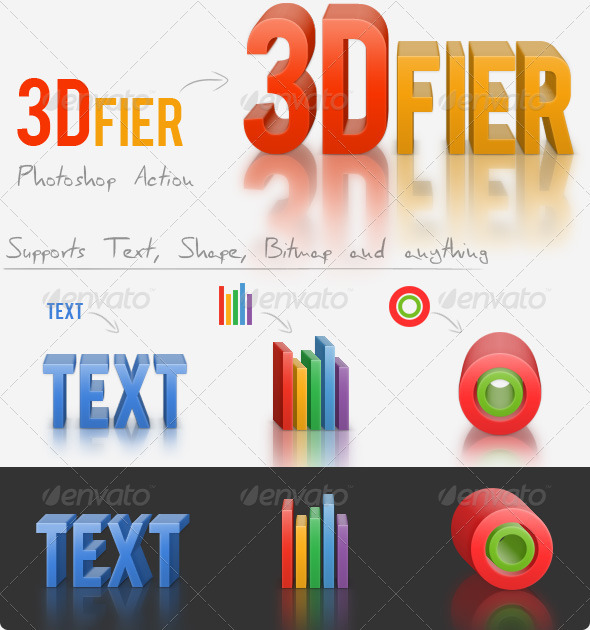 GraphicRiver 3Dfier Solid Maker Action with 3D Reflection 2694454

Add-on \ Photoshop \ Actions
Text \ Reflection \ Object \ Shadow \ Dimension \ Chart \ Maker \ Layer \ Shape
Add-on - 3Dfier Solid Maker Action with 3D Reflection 2694454
by VF @ GraphicRiver
Add-on \ Photoshop \ Actions
Add-on Files Included: Photoshop ASL, Photoshop ATN; Minimum Adobe CS Version: CS3.
This Photoshop Action converts any 2D shape into Solid 3D with realistic Reflection and Base Shadow. This can handle Text, Raster, Vector Shape layers and Smart Objects. The Action renders layered output as a Smart Object, so further adjustments on Reflection and Shadow also possible.
Actions tested with Photoshop CS3 , CS4 & CS5 on Windows and Mac with various language versions.
Design Features.
- 3 View Angles
- 2 Reflection Types
- 3 Reflection Heights
- 11 Depth variations (3, 5, 7, 10, 15, 20, 25, 30, 40, 50, 60 pixels)
- Base-Contact Shadow
Resolution.
- The Action and Styles made for 72 PPI but that's not a limitation.
- High resolution usage is possible with following simple steps.
– Drag your high res 2D layer (any text, shape, bitmap) into a new 72 PPI file.
– Generate the 3D graphics there using 3Dfier.
– Drag it back into your High-Res document and it will be just fine.
Action Performance.
- Well optimized for quick playback
- Preserves original 2D object as hidden layer
- No room for layer name conflicts
- Editable layers on Smart Object
Files Included.
- Actions & Styles for 3Dfier (ATN & ASL )
- Help Documentation – PDF & JPEG formates
- Guide – Table of Depth and style variation screenshots
3D Photo Strip - Photorealistic Mockups; 3D Glass Maker; Smart Pattern - Clean Edge Dot, Line, Grid Action.
Keywords: 2d, 3 dimension, 3D info graphics, 3D reflection, 3d, 3d object, 3d shadow, 3d text, 72 dpi, action, bar, bitmap, depth, editable, generator, graph, infographics, layer, maker, pie chart, reflection, shadow, shape, smart object, style, text, text effect, three dimension, web 3d.