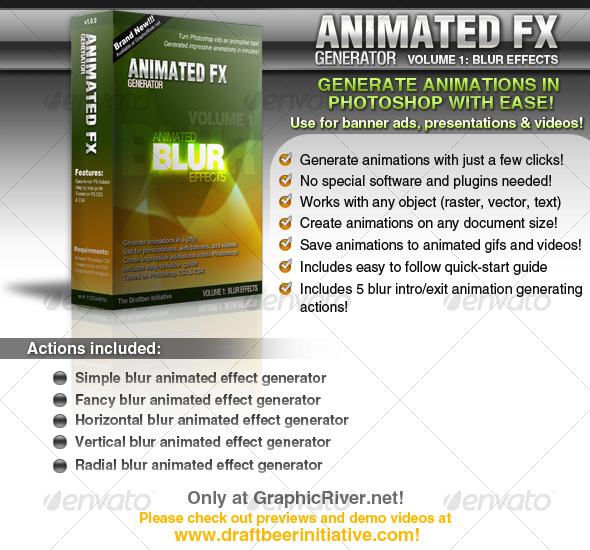 GraphicRiver Animated FX Generator vol 1 Animated Blur FX 102957

Add-on \ Photoshop
Blur \ Effect \ Simple \ Generator \ Animated \ Animation \ Action
Add-on - Animated FX Generator vol 1 Animated Blur FX 102957
by draftbeer80 @ GraphicRiver
Add-on \ Photoshop
Add-on Files Included: Photoshop ATN; Minimum Adobe CS Version: CS3.
First on GraphicRiver!
Ever wanted to create animated web banners, liven up your boring presentations with stunning animated images, or perhaps create impressive videos but didn't have flash or animation software? Well, here's the cheapest and quickest solution to your problems! The Animated FX Generator action set for Photoshop!
Most of us don't know or don't use the animation features of photoshop because most of us think that photoshop's just not built that way. But with this action set, you'd be able to do more than just create stunning graphics with photoshop, you can QUICKLY and EASILY create animations.
- Supports any document size!
- Export animations to animated GIFs or Videos (PS Extended only)
- Supports any PS object (vector, raster, smart objects, folders)
- Easy to use with an easy-to-follow quick-start guide
Here are some sample animations of what the actions included in this package can do!
For more animated previews and demo screencasts, please go to www.thedraftbeerinitiative.com.
Designer's Product Box Kit (Action+Templates set); Book Mockup Generator v1.0 Actions & Templates Set; Glassique Bleu Web Graphics Kit; Plastique Banner Ad Templates +Bonus!; Whacky assorted layer styles; Glossy & Crisp Premium Web 2.0 Download Buttons; Assorted All-Purpose Banner Ad Templates Vol. 1.
Keywords: action, animated, animation, art, blur, blur effect, generator, simple.