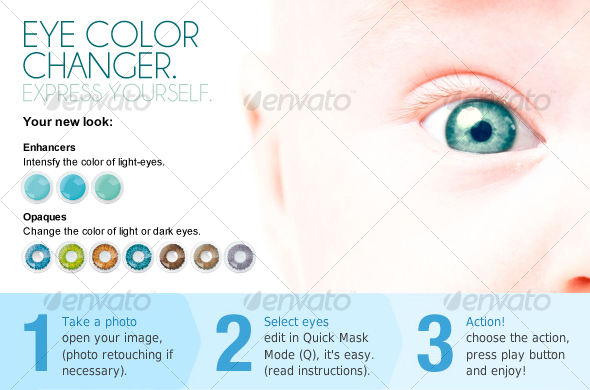 GraphicRiver Eye color changer PS ACTION 110118

Add-on \ Photoshop \ Actions \ Photo Effects
Image \ Eyes \ Ocean \ Blue \ Photoshop \ Photo \ Green \ Emerald \ Changer \ Change
Add-on - Eye color changer PS ACTION 110118
by Arias @ GraphicRiver
Add-on \ Photoshop \ Actions \ Photo Effects
Add-on Files Included: Photoshop ATN.
Details.
- Action: Eye color changer.
- Formats: .ATN
This ZIP includes.
- Action: EyeColorChanger.atn
This action includes 10 different colors.
- Ocean Blue
- Aquamarine
- Emerald Green
- Sapphire Blue
- Jade Green
- Warm Honey
- Deep Blue
- Chestnut Brown
- Hazel Green
- Pearl Gray
- Document: Readme.txt (tutorial link, instructions, aclarations…).
This ZIP NOT includes.
- Video: The videotutorial is online, you have the link in the readme file.
In the future I will add more colors, if you download the file now, do not worry, you can update your file free later.
Created in Adobe Photoshop CS3 Extended.
Questions? email me or comment please.
Now enjoy it! .
Follow me.
Tag¡äs: eye,effect,photoshop,action,color,change,eyes,colour,colors,changer,photo,image,ocean blue,aquamarine,emerald green,Sapphire Blue,Jade Green,Warm Honey,Deep Blue,Chestnut Brown.
Photo To Pencil Drawing. PS ACTION.; Clip the web. PS ACTION.; Frames the web. PS ACTION.; Web hangers. PS ACTION.; Elegant image preview. PS ACTION.; Pop art style (like Andy Warhol). PS ACTION..
Keywords: action, aquamarine, change, changer, color, colors, colour, effect, emerald green, eye, eyes, image, ocean blue, photo, photoshop.