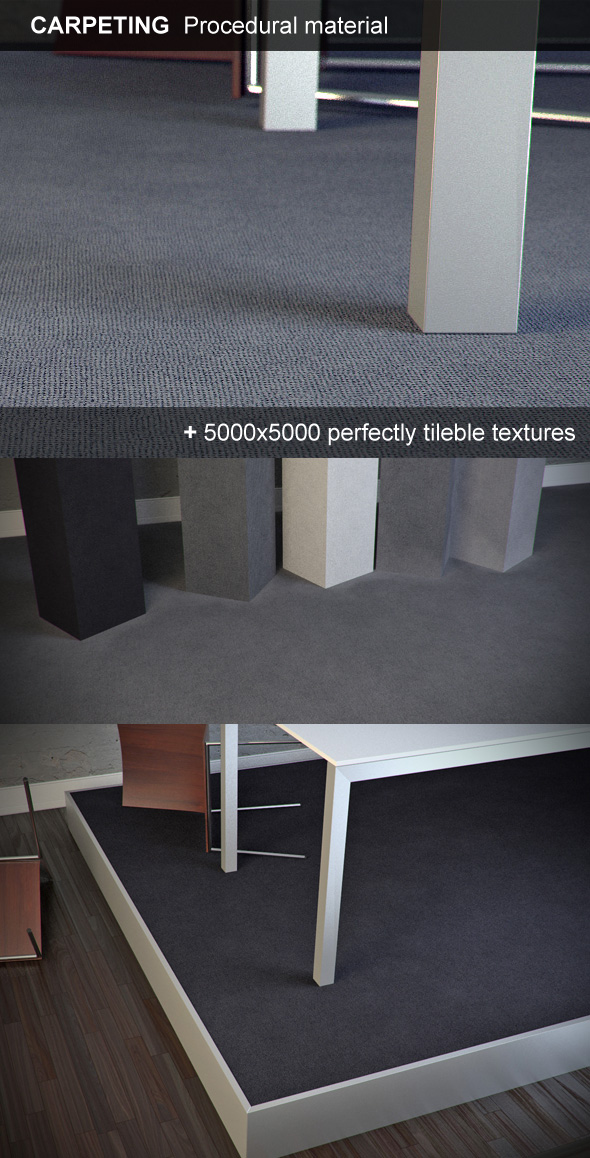 3DOcean Carpeting Hi-Res procedural material 114393

Material & Shader \ Fabric
Carpeting \ Gray \ Dirt \ Radius \ Spots \ Office \ White \ Light \ Dark \ Diffuse \ Bump
Material & Shader - Carpeting Hi-Res procedural material 114393
by maratshevchenko @ 3DOcean
Material & Shader \ Fabric
Animated: No; Bitmap Textures: Yes; Material and Shader Files Included: 3ds max 2009; Procedural Textures: Yes; Tileable: Yes.
Carpeting procedural Vray material with light spots. With Hi-Res 5000×5000 textures
Over time, the carpet is older. Items that are on it stood a long time left on it the light areas. This is due to the low level of use of these sites. This material allows you to automatically draw spots around the objects using vray dirt map and my dirt radius map.
You don't have to move UVW Map. Just open carpeting material, assign material to your floor, set UVW Map modifier to you object and click ¡®Use real-world mapping'. Thats all, render it!
sky-HDRi-14; sky-HDRi-13; sky-HDRi-12; sky-HDRi-11; sky-HDRi-10; sky-HDRi-09; sky-HDRi-08.
Keywords: bump, carpeting, dark gray, diffuse, dirt, dirt, gray, light gray, new carpeting, office, old carpeting, radius, spots, white.